SYRIAN MUSIC LIVES
Syrian Music Lives Project, a community, portal and social media network focused on preserving and reviving professional relationships among Syrian musicians and offering concrete ways to work for unification and reconciliation of Syrian people.
---
GLOBAL WEEK FOR SYRIA
Global Week for Syria,an annual multi-disciplinary call for peace, support and co- creation that takes place every third-fourth week of April since 2014.
Music Festival in Beirut:
Live Concerts, Fundraising Events
and Conferences across the globe;
Over 100 Online Performances
(#4Syria action);
Talks and Panel Discussions;
Musical and Cultural Workshops
---
WORKSHOP PROGRAMS
Workshops and conferences on the cultural heritage of the Middle East
Specialised Workshops for professionals and people interested in ethnomusicology, ancient music
Musical Workshop-Leader program is a way to empower both: musicians and people that are interested in music to start facilitating music workshops to children in disadvantaged area's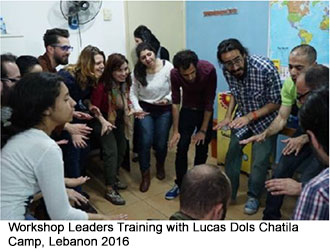 • Non Violent Communication,
• Community Music,
• Musical Instrument Lab,
• Drum-circle,
• Singing and Non-Verbal communication,
• Song-writing, etc.